23 of the happiest smells in the world
Wake up and smell the JOY, everybody. These are the happiest smells in the world, according to us.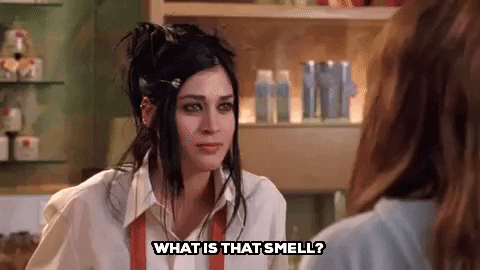 Freshly cut grass.

Waffles*.

Birthday cake candles.

Old bookshops.

The bakery section of the supermarket, specifically when the maple pecan twists are still warm.

A newborn baby's head.

Baby lotion (easier than having the baby).

Toast. Why does toast smell so delicious? Nobody knows.

Really cold, crisp, frosty winter mornings.

The coffee you buy to warm your hands up on the cold, crisp, frosty morning.

The old school radiator you eventually warm up your arse against on the cold, crisp, frosty morning.

New carpets.

The first sun cream application of the year.

Candyfloss at a funfair. But pre-waltzers only. 

Whatever fancy stuff your hairdresser mists over you at the end of a haircut, then tries to get you to buy as though perhaps you are a secret Jenner. Nice try, lady.

The faint whiff of your mum's perfume on a jumper while you're secretly homesick on a school residential holiday.

Cinnamon buns. Obviously.

Bonfire night.

The first (successful) barbecue of summer.

Frying bacon on a Saturday morning. Or any morning.

Um, the vegetarian equivalent of bacon. Frying tofu? Sure. 

The distinctly nostalgic blend of PVA glue, poster paint, disinfectant and pencil sharpenings that fragrances every primary school ever.

Beyoncé. We imagine. 
*Of course, it is the law that they must always smell at least 30% better than they actually taste. The law.
Read more
✕