How to deal with bacne (and chacne, and any other place you get spots)
Spring is almost here! Which means two things: more skin on show… and us, basically pulling a muscle to inspect our bacne in the mirror.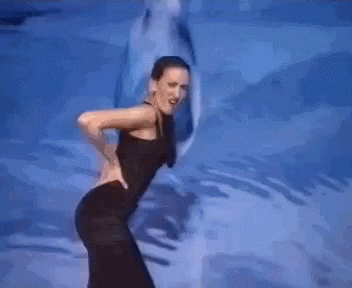 Whyyyyyy, body? Why?
People get acne when pores or hair follicles are clogged with dead skin and oil, which means you can get spots anywhere on the body where you have sebaceous glands (the glands that produce the oil). And luckily for us, humans have sebaceous glands all over our body – except for the palms of our hands and the soles of our feet. So high fives all-round. 
Whyyyyy now?
During summer you might notice your acne flaring up. This is because sweat is like Kryptonite for spots. All those little salty bacteria love to get in and amongst your pores, clogging things up and causing little mountains of surprise to form all over the place. 
Whyyyyy here?
Beyond your face, the most common places for spots to form colonies are on your back and your chest. This is because the pores are bigger, which means that it's easier for bacteria to get in there are have a little pus party. The pores are deeper there too, which is what leads to those cyst-like spots that hurt like hell and take a few weeks to clear up. 
But luckily, there are loads of things you can do to help treat bacne – so don't panic! We gotcha back. Literally. 
Scrub a dub dub... 
If you're an exercise person, make sure you jump in the shower ASAP afterwards to get rid of any sweat and bacteria that might clog up your pores. And even if you're not an exercise person, during the summer months it can be helpful to have a shower at the end of the day to get rid of any sweaty residue.  
While you're there, it's a good idea to use a cleanser on your back to make sure things are really squeaky clean. Keep an eye out for body washes with 'salicylic acid' on the label – these are the one that are going to do the best job of keeping any rogue spots at bay. 
This gentle cleanser from Cetaphil has salicylic acid and anti-bacterial soap, which helps prevent breakouts without making your skin feel too dry. 
Insert image <Cetaphil> 
Gentle skin cleanser, £7.19, Cetaphil 
Or you could try Neutrogena's Body Clear Wash which is reportedly great at fighting bacne (but it's only available on Amazon so if you cba, we totally get it). 
Insert image <Neutrogena> 
Body wash clear wash, £9.99, Neutrogena 
Exfoliate, rinse, repeat (later in the week)
Grab one of these exfoliating gloves and give the problem area a scrub twice a week. Pour some of your fancy new salicylic-based body wash onto the glove, and gently (gently!) rub in a circular motion. Au revoir dead skin cells!
Insert image <glove>
Targeting the problem
If you've got pretty severe acne on your body and want to add a targeted spot treatment to the mix, this clarifying body spray from Murad might be just the ticket. It has a nozzle that rotates 360 degrees so you don't have to have the flexibility of a yoga guru to treat your bacne flare up – just spritz some of this in the direction of your back once a day and or once every other day and you should see results fairly quickly. 
But keep in mind this stuff is strong, so make sure to moisturise in order to keep your skin from drying out. 
Insert image <Murad> 
Clarifying Body Spray, £29.50, Murad
Moisturise, moisturise, moisturise 
Speaking of moisturiser, this tea tree moisturiser from The Body Shop moisturises your skin but is light enough that it won't clog your pores and will soothe the redness around your spots. Win, win. 
Insert image <tea tree> 
Tea tree mattifying lotion, £9.50, The Body Shop 
A pocketful of sunshine 
Loads of people assume that the sun will help clear up spots, but in fact it can sometimes make things worse. The sun damages skin cells and makes skin weaker which, paired with the sweating, can lead to a breakout. So next time you're out and about in the sunshine, you might want to slip on a light layer of clothing to protect your skin (and we all know that's a good idea anyway, guys). 
When it comes to picking a sun cream, you want to keep your eyes out for a lightweight one that doesn't have any parabens or preservatives, so it won't clog your pores. This one from La Roche-Posay is specifically designed for sensitive skin, it's not greasy and it's super easy to apply. 
Insert image <La Roche-Posay> 
Anthelios sun cream body spray, £13.50, La Roche-Posay 
See, we told you we had your back. On front. Or wherever. It's all fiiiiine. 
Read more
✕